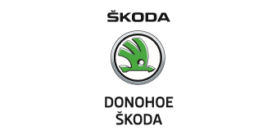 The penultimate race in the Donohoe Skoda League was held last night on a cold and blustery evening in Ballindaggin over a challenging 6K course. First home was St Killian's Niall Shiel in a time of 21.00 with Enda Cloke first Slaney man home and continuing his fine form in second place overall in 21.31. The first lady home Jackie Carthy from Kilmore in 26.14 and first Slaney Lady home was Kelly Long in 27.35. Spot prize winners were Ann Thomas and Annemarie Doyle.
Many thanks to Donohoe Skoda and Austin Codd for the sponsorship of the Summer League, to Dennis Kehab Shop for the water. Special thanks to all the marshals and helpers on the night and to Jordans Bar for the use of lounge.
Last race in the Summer League is the Clonhaston 2 Mile Road Race on Friday 2nd September 2017 followed by the Barbecue and prize giving.
Club Results:
Content loading...
| | | | Name | Time | Age Grade | Pace | Class | Pos. | |
| --- | --- | --- | --- | --- | --- | --- | --- | --- | --- |
Other Results:
1. Niall Shiels St Killians 21.00
4. Brian O Shaughnessy St Killians 22.33
5. Will Rossiter SBR 22.41
15. Jackie Carthy Kilmore 26.14
17. Garry Murphy 26.35
18. Clinton White 26.52
28. Paul Harpur 30.03
30. Noel Kelly NYR 30.34
31. Adam Hadrys 31.33
34. Anne Sharkey NYR 33.06
37. Ann Thomas Fit Nutz 33.57
40. Elaine Cullen NYR 35.02
41. Anne Cullen NYR 35.02
43. Emma Farrell 35.43o
44. Sinead Gordon Fit Nutz 36.45
45. Angus Rothwell NYR 37.08
46. Edel Kenny NYR 37.54
47. Winnie O Connor NYR 37.54
51. Paul Voise 38.54
52. Deborah Kavanagh Fit Nutz 40.26
Share
(0) Readers Comments