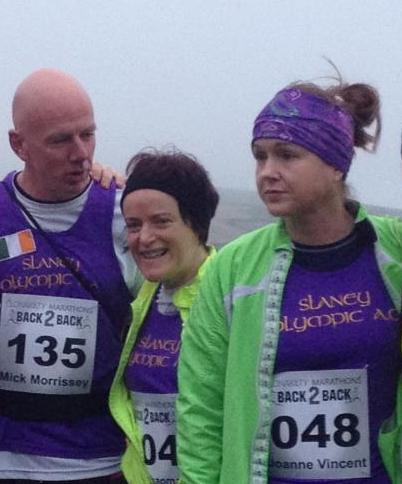 2013 has been a good year for Ultra running in the club.
The year kicked off in February with the Clonakilty Back to Back Marathons. Though not traditionally an ultra it
was two full fat 26.2 events on the 15th and 16th of February, the first time the event was held.
It was a tough demanding and scenic course. Conditions were tough particularly on day two.
The club was well represented in Clon with Mick Morrissey coming 12th overall, doing 3:21:47 on day one and 3:32:19 on day two,
Marie Chapman 4:09:55 on day one and 4:13:59 on day two, Joanne Vincent 5:48:24 on day one and 6:33:43 on day two. It was
a superb event and we were so well supported by Ger, Danielle and John Chapman out on the course. They kept us smiling and it was much appreciated.
April and it's time for the Connemara Ultra, a superb 39.3 miler, starting in Maam Cross at 9am. Four club members took part, Maurice
Whitty, Marie Chapman, Seamus Jordan and Joanne Vincent. They were well supported by friends and family. Conditions for the first 10
miles were perfect and then, heading into the mountains and towards Lough Inagh, the wind picked up considerably making it very tough.
A brilliantly run event by Ray O'Connor, the route takes you through some of the most stunning scenery through the Twelve Bens and onto
Leenaun and the Maamturks. Maurice came home in 5:27:21, Marie in 6:31:31, Seamus 6:52:51 and Joanne in 8:26:46.
In June an excellent event was held in the Portumna ForestPark. Runners have the choice of the half marathon, the full marathon or the
Ultra where the choice is either the 100km consisting of twenty 5km loops or the 50km which entails ten 5km loops. The forest is a very serene setting for running although the loops get tough after a while, particularly in the heat that day. Marie took part in the 50km event and found it difficult but finished in a time of
5:46:15 with the help and encouragement of some fantastic runners particularly Bertie Harte, a selfless runner and a bit of a treasure like our own Denise!
July and it was time to return to Cork to an event brilliantly organised by the Clonakilty crew, the Courtmacsherry 36 mile ultra. Held in a beautiful spot in west Cork, it is a tough ultra as it involves heading out 9 miles, returning to Cortmac and heading out again to repeat the route for a second time. It was grand the first
time but it was lonely and the heat had kicked in on the second lap. But the marshals and organisers were just amazing and made the experience fantastic as were the other runners who were full of encouragement despite suffering with the heat. Thirty six people took part with record holder Keith White winning the race. From Slaney Olympic, Maurice Whitty ran in a time of 5:12 and Marie Chapman ran in 6:12.
What a superb finish with beers for all at the end as well as a super medal, great t-shirt and a commemorative gathering scroll. John Chapman who did
support on the day cycled the course and had a good time. It was very much appreciated.
All roads lead to Dingle in September. Possibly one of the toughest Ultras in Ireland, the Dingle 50 miler is epic. Starting at 7am, we were bussed to start and the craic started. Four runners from Wexford took part, Charlie Walsh running his 100th Marathon that day, his army buddy and Enniscorthy man Seanie Doyle, Maurice Whitty, Marie Chapman oh and the other John Chapman. Starting near Castle Gregory and taking in the Conor Pass, a 10km climb and the highest road pass in Ireland, the ultra runners then enter Dingle and start out on the full marathon course. This is a stunning, challenging and brilliantly organised event.
Maurice Whitty ran in a superb time of 7:53 and Marie Chapman finished strongly fuelled by Hoopla Hoops and fruit duck in a time of 8:40 and she loved it.
2013 certainly was an Epic year.