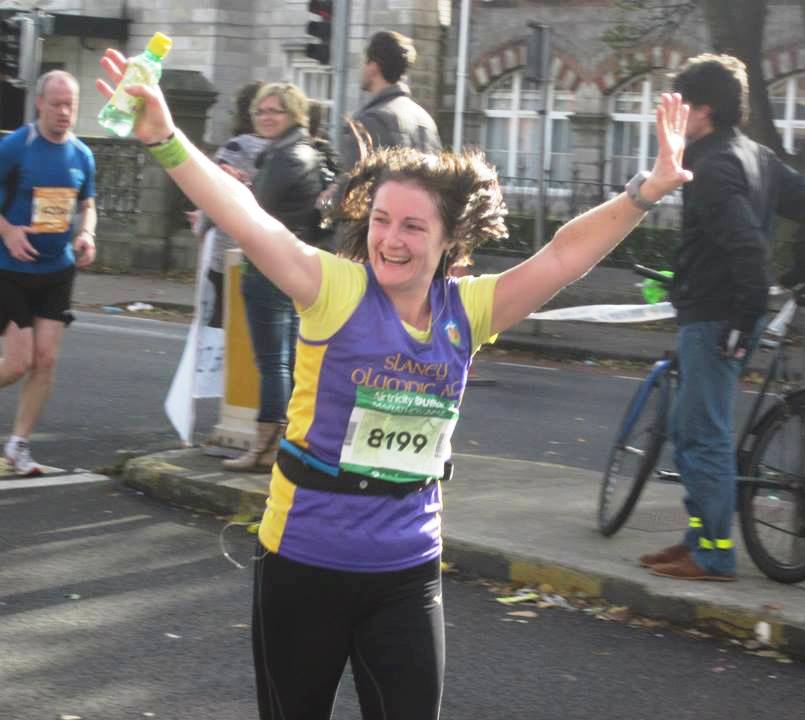 22 club members took part in the Dublin City Marathon on Monday, 28th October. Weather conditions turned out to be much more benign than forecast with blue skies and fairly light winds instead of the gales and heavy rain that had been predicted.
We had two men in comfortably under the 3 hour mark with another twelve sub 3hours 30. Two women came in under 4 hours. Captain Mag Dunphy was a mere 26 seconds over the 4 hours but had a great PB. Well done to all the first timers who ran so well.
Conaill Cooper was first man home for the club in 2.44. Denise Dixon was first of the ladies in 3.49. They were presented with the John Corrigan and Teresa Cash trophies at the prize giving the following night in Donohues.
Full club results are below:
| | | | | | |
| --- | --- | --- | --- | --- | --- |
| Name | Name | 10K | Half | 20K | Finish |
| Conaill | Cooper | 36.59 | 1.19.20 | 2.02.13 | 2.44.57 |
| Farmer | Monaghan | 37.33 | 1.19.41 | 2.04.47 | 2.48.15 |
| Rory | McCauley | 42.38 | 1.30.20 | 2.17.26 | 3.03.59 |
| Fergus | Murphy | 41.48 | 1.29.13 | 2.16.08 | 3.05.52 |
| Paul | Browne | 43.49 | 1.32.56 | 2.21.48 | 3.07.44 |
| John | Foley | 46.50 | 1.37.19 | 2.27.16 | 3.10.50 |
| John | Roban | 46.11 | 1.36.53 | 2.26.24 | 3.13.39 |
| Mick | Morrissey | 44.58 | 1.32.53 | 2.21.48 | 3.14.31 |
| Jessie | O'Connor | 46.05 | 1.36.53 | 2.27.42 | 3.15.48 |
| Brian | Maher | 46.03 | 1.36.52 | 2.27.40 | 3.16.54 |
| Malo | Roban | 47.05 | 1.39.48 | 2.30.27 | 3.18.23 |
| Billy | Reck | 47.02 | 1.38.54 | 2.29.43 | 3.22.03 |
| Bobby | Redmond | 43.49 | 1.32.56 | 2.31.07 | 3.27.19 |
| Jim | Sutton | 51.28 | 1.49.40 | 2.46.27 | 3.38.00 |
| John | Moorehouse | 48.18 | 1.42.14 | 2.39.28 | 3.42.22 |
| Tommy | Colfer | 48.19 | 1.42.14 | 2.39.21 | 3.47.00 |
| Denise | Kinsella | 54.42 | 1.54.38 | 2.54.26 | 3.49.23 |
| Jean | Mernagh | 54.59 | 1.54.40 | 2.55.40 | 3.53.43 |
| Mag | Dunphy | 57.22 | 2.00.57 | 3.04.21 | 4.00.26 |
| Mag | Balfe | 55.30 | 1.59.04 | 3.06.05 | 4.08.58 |
| Siobhan | O'Shea | 57.14 | 2.00.20 | 3.11.17 | 4.16.06 |
| Mag | Sludds | 58.29 | 2.04.49 | 3.15.54 | 4.17.58 |