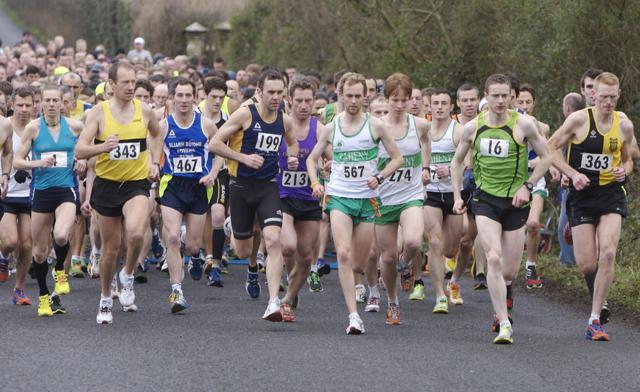 A record number of athletes took to the roads around Enniscorthy on Sunday for Slaney Olympic AC's annual 10K race which was sponsored this year by Creane & Creane Insurance.
In a quality field there was much anticipation as to who might win the women's race with the two top marathon runners in the country, Linda Byrne of DSD and Maria McCambridge of Letterkenny AC, both of whom have qualified for the marathon in this year's Olympics, going head to head over the shorter distance. The women's course record of 34.40 was bound to go and indeed it did with both women coming in well below the record. Linda finished first in 32.53 with Maria close behind in 33.08. Linda was presented with her course record prize by Austin Codd of Audi Enniscorthy. Third lady was Siobhan Doherty of Borrisokane in 35.59. Host club, Slaney Olympic, took the team prize.
There was also a strong field in the men's race. Brian Maher of Kilkenny City Harriers and Sean Hehir of Rathfarnham took up the early running with a strong team of Raheny Shamrocks giving chase. The men's record of 29.35 set last year by Mark Christie remained intact but Brian had a great run finishing in a time of 30.06, some 19 seconds ahead of Sean Hehir. Kevin Dooney of Raheny Shamrocks, who is still a junior, finished third in 31.18.  Along with Simon Ryan (4th), Bernard Roe (8th) and Brian Leahy (10th), Raheny comfortably won the team prize.
Results in the veteran categories were: Men O40 Padraig Moriarty (St Killians), O50 Edward Groblewski (Polish Run Team), O60 Billy Harpur (Sliabh Bhui Rovers) and O70 Sean Dooner (South West; Women O40 Catherine Murphy (Slaney Olympic), O50 Anne Sullivan (DMP).
Results
| | | | | | | | | |
| --- | --- | --- | --- | --- | --- | --- | --- | --- |
| Place | Bib | Name | Surname | Sex | Cat | Club | Gun Time | Chip Time |
| 1 | 363 | Brian | Maher | male | Sen | Kilkenny City Harriers | 0:30:06 | 0:30:06 |
| 2 | 91 | Sean | Hehir | male | Sen | rathfarnham-wsaf | 0:30:25 | 0:30:24 |
| 3 | 274 | Kevin | Dooney | male | Jun | Raheny Shamrock AC | 0:31:18 | 0:31:18 |
| 4 | 567 | Simon | Ryan | male | Sen | Raheny Shamrock AC | 0:31:24 | 0:31:24 |
| 5 | 343 | pat | byrne | male | Sen | tinryland | 0:32:10 | 0:32:10 |
| 6 | 301 | tom | hogan | male | Sen | SBR | 0:32:29 | 0:32:29 |
| 7 | 199 | Niall | Sheil | male | Sen | st killians | 0:32:44 | 0:32:43 |
| 8 | 579 | Bernard | Roe | male | Sen | Raheny Shamrock AC | 0:32:45 | 0:32:44 |
| 9 | 3 | Linda | Byrne | female | Sen | DSD | 0:32:53 | 0:32:52 |
| 10 | 570 | Brian | Leahy | male | Sen | Raheny Shamrock AC | 0:32:56 | 0:32:56 |
| 11 | 4 | maria | mccambridge | female | Sen | letterkenny a/c | 0:33:08 | 0:33:08 |
| 12 | 461 | David  | mcpherson | male | Sen | Kilkenny City Harriers | 0:33:13 | 0:33:12 |
| 13 | 287 | lar | doyle | male | Sen | Sli Cualann | 0:33:28 | 0:33:27 |
| 14 | 503 | ian | mcgrath | male | Sen | Sli Cualann | 0:33:41 | 0:33:40 |
| 15 | 591 | Richard | Hourihan | male | Sen |   | 0:33:44 | 0:33:43 |
| 16 | 408 | Eoin  | Brennan | male | Sen | Tallaght AC | 0:33:45 | 0:33:44 |
| 17 | 551 | Danny | Smith | male | Sen | Ballynonty AC | 0:33:52 | 0:33:51 |
| 18 | 248 | paul | gibbons | male | Sen | SBR | 0:34:23 | 0:34:22 |
| 19 | 306 | Padraig | moriarty | male | O40 | st killians | 0:34:45 | 0:34:45 |
| 20 | 395 | Paul | Cody | male | O40 | Kilkenny City Harriers | 0:34:50 | 0:34:50 |
| 21 | 252 | myles g | gibbons | male | Sen | SBR | 0:34:51 | 0:34:50 |
| 22 | 213 | Martin  | Monaghan | Male | Sen | Slaney Olympic | 0:34:57 | 0:34:57 |
| 23 | 47 | edwin | keville | male | O40 | rathfarnham-wsaf | 0:35:04 | 0:35:03 |
| 24 | 467 | Tommy  | McElwaine | male | O40 | SBR | 0:35:07 | 0:35:07 |
| 25 | 492 | Tim | Grummell | male | Sen | Sli Cualann | 0:35:16 | 0:35:15 |
| 26 | 494 | Cormac | Conroy | male | O40 | Sli Cualann | 0:35:20 | 0:35:19 |
| 27 | 585 | Kevin | Brennan | male | Jun | St. Abbans | 0:35:31 | 0:35:29 |
| 28 | 517 | Jim | Stafford | male | Sen | Slaney Olympic | 0:35:48 | 0:35:48 |
| 29 | 217 | Jason | O'Connor | Male | O40 | Slaney Olympic | 0:35:52 | 0:35:52 |
| 30 | 552 | Siobhan | O'Doherty | female | Sen | Borrisokane | 0:35:59 | 0:35:58 |
| 31 | 398 | george  | brady | male | Sen | Donore Harriers | 0:36:05 | 0:36:05 |
| 32 | 200 | Jason | Kehoe | male | Sen | st killians | 0:36:06 | 0:36:05 |
| 33 | 169 | mark | clancy | male | Sen |   | 0:36:09 | 0:36:08 |
| 34 | 292 | Sean | Murphy | male | Sen | United Striders | 0:36:11 | 0:36:11 |
| 35 | 509 | Barbara | Cleary | female | Sen |   | 0:36:12 | 0:36:11 |
| 36 | 184 | neal | o grady | male | Sen | wexford tri club | 0:36:31 | 0:36:30 |
| 37 | 531 | Daragh | Cullen | male | Sen | Clonliffe Harriers | 0:36:35 | 0:36:35 |
| 38 | 104 | richard | Fortune | male | O40 | DMP | 0:36:37 | 0:36:37 |
| 39 | 528 | angela | mccann | female | O40 |   | 0:36:40 | 0:36:40 |
| 40 | 463 | Ger | Doyle | male | O40 | SBR | 0:36:52 | 0:36:51 |
| 41 | 290 | Paddy | Lyons | male | Sen | Tallaght AC | 0:36:55 | 0:36:55 |
| 42 | 403 | Edward | Groblewski | male | O50 | Polish Run Team | 0:36:58 | 0:36:57 |
| 43 | 487 | Ben | Mooney | male | O40 | Sli Cualann | 0:37:04 | 0:37:04 |
| 44 | 513 | sean | dunne | male | O40 | Sli Cualann | 0:37:35 | 0:37:34 |
| 45 | 410 | john | browne | male | O40 |   | 0:37:39 | 0:37:36 |
| 46 | 297 | philip | fennelly | male | O40 | stoneyford | 0:37:44 | 0:37:39 |
| 47 | 335 | Eugene | Doherty | Male | O50 | SBR | 0:37:46 | 0:37:45 |
| 48 | 546 | Mohamed | Dahir | male | Sen | Liffey Valley | 0:37:47 | 0:37:46 |
| 49 | 218 | Catherine | Murphy | Female | O40 | Slaney Olympic | 0:37:48 | 0:37:45 |
| 50 | 414 | Niall | O'Connor | male | Sen | Slaney Olympic | 0:37:51 | 0:37:46 |
| 51 | 575 | Mick | Byrne | male | O50 | Sli Cualann | 0:37:54 | 0:37:49 |
| 52 | 578 | Lee | Savage | male | Sen | St. Killians | 0:37:55 | 0:37:55 |
| 53 | 515 | RONAN | KING | male | O40 | Sli Cualann | 0:37:56 | 0:37:54 |
| 54 | 563 | Billy | Tyrrell | male | O50 | Sli Cualann | 0:38:00 | 0:37:59 |
| 55 | 310 | David | Byrne | male | O40 |   | 0:38:01 | 0:37:59 |
| 56 | 50 | Fergal | Loughnane | male | Sen | Ballynonty AC | 0:38:02 | 0:37:51 |
| 57 | 400 | sinead | maher | female | O40 | st michaels ac | 0:38:04 | 0:38:03 |
| 58 | 574 | Jackie | Carthy | female | O40 | Kilmore AC | 0:38:12 | 0:38:12 |
| 59 | 139 | Michael | Finn | male | O40 | Slaney Olympic | 0:38:13 | 0:38:12 |
| 60 | 430 | John | Roban | male | O40 | Slaney Olympic | 0:38:28 | 0:38:27 |
| 61 | 486 | Robin | Mooney | male | Jun | Sli Cualann | 0:38:38 | 0:38:36 |
| 62 | 173 | Bobby | Redmond | male | Sen | Slaney Olympic | 0:39:02 | 0:38:59 |
| 63 | 584 | James | Nolan | male | Sen | St. Abbans | 0:39:10 | 0:39:09 |
| 64 | 394 | Anthony | Dowd | male | Sen |   | 0:39:12 | 0:39:10 |
| 65 | 536 | Paul | McLoughlin | male | O40 | DMP | 0:39:18 | 0:39:16 |
| 66 | 447 | Brian | Keane | male | Sen |   | 0:39:24 | 0:39:23 |
| 67 | 433 | David | Galbraith | male | Sen | Dunboyne AC | 0:39:24 | 0:39:18 |
| 68 | 336 | Maurice | Whitty | Male | O40 | Slaney Olympic | 0:39:29 | 0:39:27 |
| 69 | 566 | Kevin | Walsh | male | O50 | Kilmore AC | 0:39:31 | 0:39:30 |
| 70 | 312 | Brian | O'Shaughnessy | male | Sen | Racing795 | 0:39:35 | 0:39:33 |
| 71 | 418 | Derrick  | Evans | male | Sen |   | 0:39:36 | 0:39:32 |
| 72 | 407 | Ann | Sullivan | female | O50 | DMP | 0:39:39 | 0:39:38 |
| 73 | 490 | peter | norton | male | Sen |   | 0:39:46 | 0:39:43 |
| 74 | 411 | Pat | Hyland | male | O40 | Slaney Olympic | 0:39:47 | 0:39:45 |
| 75 | 130 | Paul | Browne | male | Sen | Slaney Olympic | 0:39:57 | 0:39:54 |
| 76 | 462 | Vincent | Morris | male | O40 |   | 0:40:11 | 0:40:11 |
| 77 | 415 | john | byrne | male | Sen |   | 0:40:30 | 0:40:24 |
| 78 | 117 | Emmett | Malone | male | Sen | United Striders | 0:40:32 | 0:40:27 |
| 79 | 105 | Mick | Morrissey | male | O50 | Slaney Olympic | 0:40:37 | 0:40:32 |
| 80 | 180 | eddie | kennedy | male | Sen |   | 0:40:38 | 0:40:36 |
| 81 | 357 | Malo | Roban | male | Sen | Slaney Olympic | 0:40:40 | 0:40:37 |
| 82 | 548 | Steven | Kildea | male | Sen |   | 0:40:46 | 0:40:41 |
| 83 | 442 | Brian | Murphy | male | Sen | Slaney Olympic | 0:40:50 | 0:40:46 |
| 84 | 352 | John  | Foley | male | Sen | Slaney Olympic | 0:40:52 | 0:40:39 |
| 85 | 412 | Patrick | O Sullivan | male | O50 | Slaney Olympic | 0:40:57 | 0:40:50 |
| 86 | 212 | Neil | Hudson | Male | O40 | Slaney Olympic | 0:41:03 | 0:41:00 |
| 87 | 549 | Patrick | Dobbs | male | Sen | P&R Fitness | 0:41:05 | 0:41:04 |
| 88 | 67 | Phil  | Murphy | male | Sen | wexford tri club | 0:41:11 | 0:41:05 |
| 89 | 540 | Bob | Jacob | male | Sen |   | 0:41:21 | 0:41:12 |
| 90 | 119 | Conor | O'Brien | male | Sen |   | 0:41:23 | 0:41:17 |
| 91 | 73 | Adrian | Stafford | male | O50 | Kilmore AC | 0:41:40 | 0:41:38 |
| 92 | 406 | cathal  | roche | male | Sen |   | 0:41:46 | 0:41:42 |
| 93 | 48 | A.J | Cotter | male | O40 | Greystones A.C. | 0:41:46 | 0:41:44 |
| 94 | 525 | pat | molloy | male | O40 |   | 0:41:53 | 0:41:49 |
| 95 | 436 | Fergus  | Mc Auliffe | male | Sen |   | 0:41:54 | 0:41:41 |
| 96 | 514 | Joy | Johnson | female | O40 | Sli Cualann | 0:41:57 | 0:41:54 |
| 97 | 302 | Matt | Phylan | male | O40 | Slaney Olympic | 0:41:58 | 0:41:54 |
| 98 | 381 | Graham | Doyle | Male | Sen | Wexford Youths | 0:42:00 | 0:41:33 |
| 99 | 413 | Conor | Hyland | male | Sen |   | 0:42:05 | 0:42:04 |
| 100 | 561 | William | Denning | male | O40 |   | 0:42:08 | 0:42:02 |
| 101 | 271 | Annaleigh | Hore | female | Sen | Kilmore AC | 0:42:21 | 0:42:14 |
| 102 | 421 | Rory | McCauley | male | Sen |   | 0:42:22 | 0:42:16 |
| 103 | 128 | Eddie | Mc Donald | male | Sen |   | 0:42:24 | 0:42:18 |
| 104 | 289 | David | Bolger | male | O40 | Slaney Olympic | 0:42:26 | 0:42:18 |
| 105 | 451 | Kieran | Moroney | male | Sen |   | 0:42:31 | 0:42:26 |
| 106 | 182 | GER | MURPHY | male | O40 | Slaney Olympic | 0:42:32 | 0:42:31 |
| 107 | 392 | Damien | Malone | male | Sen |   | 0:42:34 | 0:42:26 |
| 108 | 61 | Eoin  | Ryan | male | Sen | DMP | 0:42:35 | 0:42:32 |
| 109 | 450 | Eoin | Keane | male | Sen |   | 0:42:55 | 0:42:53 |
| 110 | 43 | Ian  | Cullen | male | Sen |   | 0:42:57 | 0:42:46 |
| 111 | 136 | Mark  | Donnelly | male | Sen |   | 0:43:11 | 0:42:49 |
| 112 | 45 | Stephen | Whelan | male | O40 | Kilmore AC | 0:43:19 | 0:43:18 |
| 113 | 46 | helen | ingram | female | O50 | rathfarnham-wsaf | 0:43:24 | 0:43:24 |
| 114 | 339 | Darren | Keane | male | Sen |   | 0:43:26 | 0:43:16 |
| 115 | 368 | Shane | Clarke | Male | Sen | Wexford Youths | 0:43:27 | 0:42:59 |
| 116 | 106 | Bill | Barry | male | Sen |   | 0:43:28 | 0:43:24 |
| 117 | 372 | Jimmy | Dermody | Male | Sen | Wexford Youths | 0:43:30 | 0:43:01 |
| 118 | 188 | Stephen  | McCann | male | O40 |   | 0:43:31 | 0:43:28 |
| 119 | 375 | Brian | Nolan | Male | Sen | Wexford Youths | 0:43:32 | 0:43:04 |
| 120 | 179 | David | O'Connor | male | Sen |   | 0:43:33 | 0:43:30 |
| 121 | 378 | Eric | Molloy | Male | Sen | Wexford Youths | 0:43:36 | 0:43:07 |
| 122 | 444 | Timothy | O'Donnell | male | Sen | Menapians | 0:43:47 | 0:43:40 |
| 123 | 211 | Patrick | Kirwan | Male | Sen |   | 0:43:48 | 0:43:43 |
| 124 | 120 | Anna | Bushe | female | Sen |   | 0:43:49 | 0:43:44 |
| 125 | 72 | Tim | Murphy | male | O40 | Spectrum Striders | 0:43:51 | 0:43:47 |
| 126 | 456 | ray | kelly | male | Sen |   | 0:43:58 | 0:43:35 |
| 127 | 518 | niall  | o'connor | male | Sen |   | 0:43:59 | 0:43:51 |
| 128 | 526 | Eddie | Nugent | male | Sen |   | 0:44:00 | 0:43:45 |
| 129 | 147 | JOHN | MEAGHER | male | Sen | nenagh triatlon | 0:44:02 | 0:43:31 |
| 130 | 244 | Rory | Stokes | Male | O40 |   | 0:44:05 | 0:43:40 |
| 131 | 344 | Simon | Smith | male | O40 |   | 0:44:07 | 0:43:50 |
| 132 | 251 | catherine | walsh | female | Sen | SBR | 0:44:10 | 0:44:05 |
| 133 | 534 | Chris | Squance | male | O40 |   | 0:44:12 | 0:44:07 |
| 134 | 220 | Michael | Morgan | Male | Sen |   | 0:44:13 | 0:44:10 |
| 135 | 582 | Tommy  | Colfer | male | Sen |   | 0:44:14 | 0:44:01 |
| 136 | 576 | Matthew | Belton | male | O50 | Parnell Athletic Club | 0:44:15 | 0:43:58 |
| 137 | 296 | Hannah | Nolan | female | Sen | Sli Cualann | 0:44:18 | 0:44:15 |
| 138 | 313 | david | wren | male | Sen |   | 0:44:19 | 0:44:11 |
| 139 | 167 | anthony | desmond | male | O40 |   | 0:44:19 | 0:44:17 |
| 140 | 174 | Billy  | Reck | male | O40 | Slaney Olympic | 0:44:35 | 0:44:28 |
| 141 | 41 | TIM  | O'Neill | male | Sen |   | 0:44:39 | 0:44:25 |
| 142 | 125 | louise | oprea | female | Sen | St. Laurence O Toole | 0:44:41 | 0:44:31 |
| 143 | 124 | adrian | oprea | male | Sen |   | 0:44:42 | 0:44:31 |
| 144 | 426 | Noel | Greene | male | Sen |   | 0:44:44 | 0:44:17 |
| 145 | 203 | ruth | o connell | female | Sen | Menapians | 0:44:46 | 0:44:38 |
| 146 | 207 | Tracy | Flanagan | female | O40 | United Striders | 0:44:52 | 0:44:41 |
| 147 | 96 | Thomas | O Connell | male | Sen |   | 0:44:53 | 0:44:44 |
| 148 | 266 | phelim | Lynch | male | Sen | kilcoole ac | 0:44:53 | 0:44:52 |
| 149 | 559 | Michael | Fortune | male | Sen |   | 0:44:55 | 0:44:34 |
| 150 | 27 | James | Grennan | male | O40 |   | 0:44:58 | 0:44:27 |
| 151 | 384 | Carl | Fox | Male | Sen | Wexford Youths | 0:44:59 | 0:44:49 |
| 152 | 435 | Sarah-Jo | Sinnott | female | Sen | UCC | 0:45:01 | 0:44:49 |
| 153 | 134 | Medbh | Peavoy | female | Sen | Donore Harriers | 0:45:01 | 0:44:56 |
| 154 | 455 | michael | thorpe | male | O40 |   | 0:45:05 | 0:44:42 |
| 155 | 367 | Shaun | Corcoran | Male | Sen | Wexford Youths | 0:45:05 | 0:44:37 |
| 156 | 366 | Danny | Furlong | Male | Sen | Wexford Youths | 0:45:05 | 0:44:37 |
| 157 | 260 | Tony | O Neill | male | O40 |   | 0:45:07 | 0:45:03 |
| 158 | 137 | Brid | Long | female | O40 | St. Laurence O Toole | 0:45:12 | 0:45:00 |
| 159 | 580 | John | Kent | male | Sen | United Striders | 0:45:21 | 0:45:10 |
| 160 | 259 | David  | Condon | male | Sen |   | 0:45:23 | 0:45:23 |
| 161 | 596 | David | Farrell | male | Sen |   | 0:45:25 | 0:45:02 |
| 162 | 267 | Vincent | McCarthy | male | O50 |   | 0:45:26 | 0:45:23 |
| 163 | 510 | John  | Butler | male | O40 |   | 0:45:27 | 0:45:18 |
| 164 | 40 | Michael | Flanagan | male | O40 |   | 0:45:28 | 0:45:14 |
| 165 | 177 | Micheál | Murphy | male | Sen |   | 0:45:28 | 0:45:13 |
| 166 | 396 | David | Lawlor | male | Sen |   | 0:45:30 | 0:45:04 |
| 167 | 379 | Shane | Nolan | Male | Sen | Wexford Youths | 0:45:30 | 0:45:02 |
| 168 | 265 | lillian | lawless | female | O40 |   | 0:45:35 | 0:45:33 |
| 169 | 170 | Catherine | O'Connor | female | O40 | Menapians | 0:45:41 | 0:45:34 |
| 170 | 277 | Annette | Moroney | female | Sen |   | 0:45:42 | 0:45:38 |
| 171 | 311 | Simon | Murphy | male | Sen |   | 0:45:43 | 0:45:29 |
| 172 | 374 | James | Scallon | Male | Sen | Wexford Youths | 0:45:45 | 0:45:12 |
| 173 | 103 | micheal | kinsella | male | Sen | Menapians | 0:45:50 | 0:45:44 |
| 174 | 304 | Martin | O Malley | male | O40 | kilcoole ac | 0:45:51 | 0:45:49 |
| 175 | 520 | Nicola | Maunsell | female | O40 | Clonmel AC | 0:45:52 | 0:45:43 |
| 176 | 557 | Ciaran | Ruth | male | Sen |   | 0:45:55 | 0:45:34 |
| 177 | 97 | David | Bolger | male | Sen |   | 0:45:58 | 0:45:44 |
| 178 | 409 | Mike | McCarthy | male | O40 |   | 0:46:07 | 0:46:04 |
| 179 | 564 | Billy | Kinsella | male | Sen |   | 0:46:09 | 0:45:54 |
| 180 | 533 | Rory | Curtis | male | Sen |   | 0:46:20 | 0:45:57 |
| 181 | 562 | PJ | Doyle | male | O40 | Sli Cualann | 0:46:22 | 0:46:17 |
| 182 | 577 | John | O'Connor | male | O40 | Slaney Olympic | 0:46:28 | 0:46:11 |
| 183 | 111 | stephen | short | male | Sen |   | 0:46:28 | 0:46:14 |
| 184 | 84 | Derek | Monaghan | male | O40 |   | 0:46:33 | 0:46:30 |
| 185 | 439 | Seamus  | Jordan | male | O40 | Slaney Olympic | 0:46:33 | 0:46:14 |
| 186 | 196 | Philip | Donovan | male | O50 | Menapians | 0:46:34 | 0:46:31 |
| 187 | 482 | Gabrielle Anne | Blair | female | O40 | Waterford Athletic Club | 0:46:39 | 0:46:32 |
| 188 | 23 | Siobhan | O'Shea | female | Sen | Slaney Olympic | 0:46:43 | 0:46:39 |
| 189 | 522 | Joe  | Codd | male | O40 |   | 0:46:43 | 0:46:21 |
| 190 | 524 | MIchael | Sweeney | male | Sen |   | 0:46:46 | 0:46:28 |
| 191 | 377 | Mark | Phelan | Male | Sen | Wexford Youths | 0:46:46 | 0:46:18 |
| 192 | 314 | ERIC | PINAQUI | male | O40 |   | 0:46:50 | 0:46:24 |
| 193 | 178 | Richie  | Lynch | male | O40 |   | 0:46:54 | 0:46:39 |
| 194 | 272 | breeda  | browne | female | Sen | St. Laurence O Toole | 0:46:55 | 0:46:42 |
| 195 | 521 | jason | hammel | male | Sen |   | 0:47:02 | 0:46:39 |
| 196 | 268 | Brian | Phillips | male | Sen |   | 0:47:07 | 0:46:53 |
| 197 | 497 | Michael | Kelly | Male | O40 |   | 0:47:08 | 0:46:53 |
| 198 | 376 | Thomas | Croke | Male | Sen | Wexford Youths | 0:47:08 | 0:46:40 |
| 199 | 191 | Jim | Sutton | male | O50 |   | 0:47:12 | 0:46:55 |
| 200 | 581 | Chris | Walkden | male | Sen |   | 0:47:14 | 0:47:09 |
| 201 | 595 | Niall | Doyle | male | Sen |   | 0:47:15 | 0:47:03 |
| 202 | 250 | anne | bolger | female | O50 | SBR | 0:47:25 | 0:47:15 |
| 203 | 488 | Sarah | Berry | female | Sen |   | 0:47:27 | 0:47:13 |
| 204 | 318 | David | Carley | male | Sen |   | 0:47:27 | 0:47:27 |
| 205 | 597 | Noel | Kehoe | male | Sen |   | 0:47:28 | 0:47:07 |
| 206 | 437 | Carol | Sinnott | female | Sen | UCC | 0:47:30 | 0:47:17 |
| 207 | 338 | Liam | Murphy | male | Sen |   | 0:47:30 | 0:47:15 |
| 208 | 94 | John | Murphy | male | Sen |   | 0:47:36 | 0:47:11 |
| 209 | 95 | Sinead | O'Brien | female | O40 | Kilmore AC | 0:47:41 | 0:47:28 |
| 210 | 175 | Mags  | cullen | male | Sen |   | 0:47:42 | 0:47:28 |
| 211 | 422 | Brian | Kinsella | male | O40 |   | 0:47:45 | 0:47:22 |
| 212 | 233 | Ryan | Quigley | male | Sen | Creane&Creane | 0:47:49 | 0:47:31 |
| 213 | 547 | Noel | Molloy | male | O50 |   | 0:47:50 | 0:47:46 |
| 214 | 473 | Anthony | Kennelly | male | Sen |   | 0:47:52 | 0:47:33 |
| 215 | 431 | Niall | O'Reilly | male | Sen |   | 0:47:53 | 0:47:38 |
| 216 | 496 | Michael | O'Leary | Male | O40 |   | 0:47:54 | 0:47:42 |
| 217 | 300 | Paul | Glynn | male | O40 |   | 0:47:56 | 0:47:30 |
| 218 | 541 | Patrick | Bracken | male | Sen |   | 0:47:56 | 0:47:42 |
| 219 | 74 | Clodagh | McNulty | female | Sen |   | 0:47:59 | 0:47:50 |
| 220 | 83 | Joyce  | Harney | female | Sen |   | 0:47:59 | 0:47:51 |
| 221 | 348 | martina | o' sullivan | female | O40 | Slaney Olympic | 0:48:00 | 0:47:40 |
| 222 | 438 | Joe  | Millar | male | O50 |   | 0:48:01 | 0:47:41 |
| 223 | 86 | martin | carroll | male | Sen |   | 0:48:17 | 0:48:14 |
| 224 | 464 | Mary | Doyle | female | Sen | SBR | 0:48:23 | 0:48:22 |
| 225 | 483 | Bernie  | Prendergast | female | O50 | West Waterford Athletic Club | 0:48:28 | 0:48:21 |
| 226 | 114 | Barry | O'Neill | male | O40 |   | 0:48:32 | 0:48:19 |
| 227 | 293 | Jim | Morrrissey | male | Sen |   | 0:48:32 | 0:48:21 |
| 228 | 441 | Mary | Nolan Hickey | female | O50 | Coral Runners Arklow | 0:48:34 | 0:48:24 |
| 229 | 434 | Pawel  | Jarema | male | Sen |   | 0:48:35 | 0:48:19 |
| 230 | 29 | John | Redmond | male | Sen |   | 0:48:39 | 0:48:32 |
| 231 | 113 | Ger | Kelly | male | Sen |   | 0:48:44 | 0:48:28 |
| 232 | 193 | Karen | Clarke | female | Sen |   | 0:48:45 | 0:48:37 |
| 233 | 315 | ken | jones | male | Sen |   | 0:48:46 | 0:48:41 |
| 234 | 26 | Gordon | Dowd | male | Sen |   | 0:48:50 | 0:48:38 |
| 235 | 146 | adrian | Doran | male | Sen |   | 0:48:52 | 0:48:16 |
| 236 | 593 | Alan | Hammond | male | O40 |   | 0:48:55 | 0:48:32 |
| 237 | 535 | Michelle | Langan | female | Sen | Blackrock AC | 0:48:55 | 0:48:48 |
| 238 | 502 | caroline | phelan | female | O40 | Clonmel AC | 0:48:59 | 0:48:57 |
| 239 | 326 | Colm | Doyle | Male | O40 |   | 0:49:01 | 0:48:48 |
| 240 | 423 | john | murphy | male | Sen | Slaney Olympic | 0:49:05 | 0:48:45 |
| 241 | 365 | Shane | Dempsey | Male | Sen | Wexford Youths | 0:49:05 | 0:48:37 |
| 242 | 316 | Peter | Brennan | male | Sen |   | 0:49:06 | 0:48:46 |
| 243 | 153 | Diane | Jordan | female | Sen |   | 0:49:07 | 0:48:59 |
| 244 | 168 | Niamh | O'Brien | female | Sen | Menapians | 0:49:08 | 0:49:00 |
| 245 | 291 | Barry | McGibney | male | Sen |   | 0:49:13 | 0:49:02 |
| 246 | 227 | Conor  | Arrigan | Male | Sen | Creane&Creane | 0:49:17 | 0:48:59 |
| 247 | 560 | Niamh | Breen | female | Sen | St. Laurence O Toole | 0:49:17 | 0:49:05 |
| 248 | 219 | Mag | Dunphy | Female | O50 | Slaney Olympic | 0:49:17 | 0:49:14 |
| 249 | 404 | Dawn | Whelan | female | Sen | Slaney Olympic | 0:49:18 | 0:49:05 |
| 250 | 489 | james  | townsend | male | Sen |   | 0:49:24 | 0:48:58 |
| 251 | 405 | joseph  | roche | male | Sen |   | 0:49:29 | 0:49:25 |
| 252 | 299 | Pat | Bolger | male | O40 |   | 0:49:32 | 0:49:25 |
| 253 | 222 | John | Morgan | Male | Sen |   | 0:49:34 | 0:49:31 |
| 254 | 249 | claire | gibbons | female | Sen | SBR | 0:49:37 | 0:49:26 |
| 255 | 126 | Noel | O'Flaherty | male | Sen |   | 0:49:47 | 0:49:42 |
| 256 | 600 | John | McCann | male | Sen |   | 0:49:48 | 0:49:23 |
| 257 | 449 | paddy | hyland | male | Sen |   | 0:49:53 | 0:49:27 |
| 258 | 305 | Eoin | McCarthy | male | Sen |   | 0:49:57 | 0:49:35 |
| 259 | 325 | Michael | O'Gorman | Male | O50 |   | 0:49:58 | 0:49:41 |
| 260 | 176 | Sean | Byrne | male | Sen |   | 0:49:59 | 0:49:50 |
| 261 | 370 | Martin  | Keogh | Male | Sen | Wexford Youths | 0:50:01 | 0:49:29 |
| 262 | 159 | elisa | leacy | female | Sen | SBR | 0:50:14 | 0:50:04 |
| 263 | 347 | Brendan | Kehoe | male | O40 | SBR | 0:50:14 | 0:48:59 |
| 264 | 388 | Norena | Kelly | Female | O50 |   | 0:50:15 | 0:49:48 |
| 265 | 516 | Bernie | Millar | female | O50 | Wexford tri club | 0:50:17 | 0:49:56 |
| 266 | 183 | Caitriona | Erdpohl | female | Sen | Brothers Pearse | 0:50:18 | 0:50:05 |
| 267 | 202 | Ciara | Maxwell | female | O40 |   | 0:50:22 | 0:50:10 |
| 268 | 36 | Khanh | Huynh | male | Sen |   | 0:50:23 | 0:49:58 |
| 269 | 75 | patrick | kearney | male | O40 |   | 0:50:29 | 0:50:01 |
| 270 | 194 | John  | Burke-O'Leary | male | O50 |   | 0:50:29 | 0:50:23 |
| 271 | 553 | Billy | Harpur | male | O60 | SBR | 0:50:32 | 0:50:20 |
| 272 | 350 | yvonne | treacy | female | Sen | Slaney Olympic | 0:50:32 | 0:50:11 |
| 273 | 151 | Melanie | O'Leary | female | Sen |   | 0:50:34 | 0:50:26 |
| 274 | 472 | Vincent | Byrne | male | O40 |   | 0:50:40 | 0:50:22 |
| 275 | 78 | Chris | Short | male | Sen |   | 0:50:41 | 0:50:26 |
| 276 | 257 | Ciarain | Kilcullen | male | Sen | Ballaghaderreen cycling club | 0:50:42 | 0:50:42 |
| 277 | 589 | Sean | Murphy | male | O40 |   | 0:50:52 | 0:50:18 |
| 278 | 258 | Karen | O'Dowd | female | Sen |   | 0:50:52 | 0:50:30 |
| 279 | 127 | Bernard | Duff | male | O40 |   | 0:50:55 | 0:50:25 |
| 280 | 122 | Gordon | Stewart | male | O50 |   | 0:50:55 | 0:50:25 |
| 281 | 121 | Catriona | Healy | female | O40 |   | 0:50:55 | 0:50:25 |
| 282 | 133 | BELINDA | KEHOE | female | Sen |   | 0:50:58 | 0:50:58 |
| 283 | 60 | Joe | Hunt | male | Sen |   | 0:51:03 | 0:50:34 |
| 284 | 162 | marc | gibbs | male | O40 |   | 0:51:13 | 0:50:37 |
| 285 | 140 | Niamh | Coman | female | Sen | DMP | 0:51:18 | 0:50:57 |
| 286 | 115 | Nessa | Banville | female | Sen |   | 0:51:19 | 0:51:19 |
| 287 | 532 | Karl | Clarke | male | Sen |   | 0:51:19 | 0:51:03 |
| 288 | 386 | Michelle | Murphy | Female | Sen | Slaney Olympic | 0:51:26 | 0:51:06 |
| 289 | 49 | Stephen | Langton | male | Sen |   | 0:51:33 | 0:51:14 |
| 290 | 373 | Neale | Phelan | Male | Sen | Wexford Youths | 0:51:35 | 0:51:06 |
| 291 | 152 | Florrie | Swords | female | O40 |   | 0:51:45 | 0:51:37 |
| 292 | 254 | James | Kinsella | male | Sen |   | 0:51:45 | 0:51:18 |
| 293 | 256 | Amanda  | Cunniffe | female | Sen |   | 0:51:46 | 0:51:46 |
| 294 | 445 | Ollie | Moroney | male | Sen |   | 0:52:02 | 0:51:53 |
| 295 | 144 | Anne | Cooper | female | Sen |   | 0:52:09 | 0:51:59 |
| 296 | 141 | TANYA | LEACY | female | Sen |   | 0:52:09 | 0:52:00 |
| 297 | 387 | Mick | Jordan | Male | O40 | Slaney Olympic | 0:52:10 | 0:51:40 |
| 298 | 320 | Austin | Codd | Male | O40 |   | 0:52:17 | 0:51:54 |
| 299 | 214 | Pauric | Kilcullen | Male | Sen |   | 0:52:26 | 0:51:49 |
| 300 | 380 | John | Yeates | Male | Sen | Wexford Youths | 0:52:30 | 0:51:58 |
| 301 | 382 | Jamie | Carr | Male | Sen | Wexford Youths | 0:52:30 | 0:51:58 |
| 302 | 131 | Helena | Browne | female | Sen | Slaney Olympic | 0:52:32 | 0:52:21 |
| 303 | 294 | Siobhan | O'Sullivan | female | O40 | SBR | 0:52:39 | 0:52:30 |
| 304 | 321 | Michelle | Doyle | Female | Sen | Slaney Olympic | 0:52:46 | 0:52:12 |
| 305 | 446 | Catherine | O Rourke | female | Sen | tinahely tri club | 0:52:49 | 0:52:37 |
| 306 | 145 | Darren | O'Grady | male | Sen | Menapians | 0:52:50 | 0:52:37 |
| 307 | 391 | Lorna | Rothwell | female | Sen | SBR | 0:52:50 | 0:52:40 |
| 308 | 416 | Karen | Tomkins | female | Sen |   | 0:53:03 | 0:52:58 |
| 309 | 332 | Gillian | Roche | Female | Sen |   | 0:53:07 | 0:52:57 |
| 310 | 331 | Alan | Donovan | Male | Sen |   | 0:53:07 | 0:52:57 |
| 311 | 569 | Katarzyna | Krawczynska | female | Sen |   | 0:53:10 | 0:53:07 |
| 312 | 85 | louise | nolan | female | Sen | Slaney Olympic | 0:53:10 | 0:52:59 |
| 313 | 448 | p.j. | kenna | male | O40 |   | 0:53:13 | 0:52:48 |
| 314 | 58 | Gerry | Moran | male | O40 | st killians | 0:53:15 | 0:52:47 |
| 315 | 235 | Brian | Byrne | Male | Sen | Creane&Creane | 0:53:26 | 0:53:07 |
| 316 | 236 | Emmet | Power | Male | Sen | Creane&Creane | 0:53:26 | 0:53:09 |
| 317 | 204 | Stephanie  | Flynn | female | Sen | SBR | 0:53:28 | 0:53:18 |
| 318 | 568 | Michael | Hunter | male | Sen |   | 0:53:37 | 0:53:34 |
| 319 | 149 | Elaine | Stafford | female | Sen |   | 0:53:41 | 0:53:32 |
| 320 | 466 | Shauna | Deane | female | Sen |   | 0:53:41 | 0:53:30 |
| 321 | 34 | Marie  | Redmond  | female | Sen |   | 0:53:45 | 0:53:25 |
| 322 | 172 | Colin | Rea | female | Sen |   | 0:53:45 | 0:53:36 |
| 323 | 171 | stephanie  | O' Dwyer | female | Sen | fit for life kilkenny city harriers | 0:53:45 | 0:53:37 |
| 324 | 583 | Joe  | Murphy | male | O40 |   | 0:53:47 | 0:53:15 |
| 325 | 481 | Miriam | Hill | female | Sen |   | 0:53:53 | 0:53:40 |
| 326 | 477 | Sinead  | Hughes | female | Sen |   | 0:53:53 | 0:53:40 |
| 327 | 587 | Anita | Ronan | female | O40 |   | 0:53:58 | 0:53:45 |
| 328 | 471 | marie | chapman | female | O40 | Slaney Olympic | 0:53:59 | 0:53:48 |
| 329 | 355 | Patricia | O Brien | female | Sen | St Abbans | 0:54:03 | 0:53:27 |
| 330 | 358 | Greta  | Roberts-Tyrrell | male | Sen | Slaney Olympic  | 0:54:08 | 0:53:39 |
| 331 | 360 | Stephen | Tyrrell | male | Sen |   | 0:54:09 | 0:53:39 |
| 332 | 354 | Mark | Robinson | male | Sen |   | 0:54:09 | 0:53:31 |
| 333 | 349 | Eilish | Kehoe | female | O40 | SBR | 0:54:10 | 0:53:59 |
| 334 | 307 | DEIRDRE | BOWERS KAVANAGH | female | O40 | Slaney Olympic | 0:54:16 | 0:54:05 |
| 335 | 542 | Barry | O'Connor | male | Sen |   | 0:54:16 | 0:54:16 |
| 336 | 507 | Colm | Moore | male | Sen |   | 0:54:17 | 0:53:46 |
| 337 | 150 | Dermot | Wallace | male | Sen |   | 0:54:18 | 0:53:42 |
| 338 | 30 | una | cassoni | female | Sen | Lucan Harriers | 0:54:19 | 0:54:10 |
| 339 | 62 | Paul | Askins | male | Sen | Dooneen AC | 0:54:22 | 0:53:48 |
| 340 | 102 | Gavin | O Mahony | male | Sen |   | 0:54:28 | 0:54:14 |
| 341 | 485 | Aoibhinn | McInerney | female | Sen | St. Laurence O Toole | 0:54:45 | 0:54:33 |
| 342 | 594 | Mary Claire | Byrne | female | Sen | St. Laurence O Toole | 0:54:46 | 0:54:34 |
| 343 | 399 | Venessa  | Dowling | female | Sen | St. Laurence O Toole | 0:54:46 | 0:54:34 |
| 344 | 317 | Sandra | Poole | female | Sen |   | 0:54:50 | 0:54:29 |
| 345 | 71 | Marie | Doyle | female | Sen |   | 0:54:57 | 0:54:24 |
| 346 | 278 | Lauren | Heney | female | Sen | Dun Laoghaire Runners | 0:54:59 | 0:54:46 |
| 347 | 459 | Stephanie | Colfer | Female | Sen | Slaney Olympic | 0:55:03 | 0:54:52 |
| 348 | 155 | Carol | Furlong | female | Sen |   | 0:55:03 | 0:54:53 |
| 349 | 555 | Laura | O'Connor | female | Sen |   | 0:55:17 | 0:55:01 |
| 350 | 70 | Cormac | O'Boyle | male | O40 |   | 0:55:19 | 0:54:47 |
| 351 | 33 | Elaine | Jenkinson | female | O40 | Avondale | 0:55:27 | 0:55:05 |
| 352 | 99 | orla | doyle | female | Sen |   | 0:55:40 | 0:55:26 |
| 353 | 135 | Lisa | Fahy | female | Sen |   | 0:55:42 | 0:55:34 |
| 354 | 255 | Lar | O Toole | male | Sen |   | 0:55:45 | 0:55:17 |
| 355 | 429 | brendan | bonner | male | O40 |   | 0:55:45 | 0:55:11 |
| 356 | 53 | Liam | McLaughlin | male | Sen |   | 0:55:47 | 0:55:09 |
| 357 | 460 | Donie | Colfer | Male | O50 | Slaney Olympic | 0:55:48 | 0:55:26 |
| 358 | 197 | Tina | Bergin | female | Sen |   | 0:55:50 | 0:55:44 |
| 359 | 571 | Alan | Furlong | male | Sen |   | 0:55:54 | 0:55:20 |
| 360 | 469 | Tasha | O'Sullivan | female | Sen |   | 0:56:13 | 0:56:07 |
| 361 | 470 | Chris | O'Sullivan | male | Sen |   | 0:56:13 | 0:56:07 |
| 362 | 295 | Stanley | Keane | male | O40 |   | 0:56:15 | 0:55:52 |
| 363 | 209 | Elaine | Doyle | female | Sen |   | 0:56:16 | 0:56:15 |
| 364 | 283 | Maureen  | Costello  | female | O40 | St James | 0:56:23 | 0:56:14 |
| 365 | 110 | John | Moore | male | Sen |   | 0:56:24 | 0:56:17 |
| 366 | 143 | Martina | Behan | female | Sen | SBR | 0:56:33 | 0:56:24 |
| 367 | 247 | Alan | Corcoran | male | O50 |   | 0:56:35 | 0:56:02 |
| 368 | 286 | Alison | Murphy | female | O40 | United Striders | 0:56:39 | 0:56:28 |
| 369 | 319 | Máire | Browne Carley | female | Sen |   | 0:56:40 | 0:56:16 |
| 370 | 189 | ANDY | GAVIGAN | male | Sen |   | 0:56:54 | 0:56:35 |
| 371 | 327 | Rosemary | Kelly | Female | Sen |   | 0:56:59 | 0:56:49 |
| 372 | 261 | Kelly | Geoghegan | female | Sen |   | 0:57:00 | 0:56:23 |
| 373 | 369 | Cormac | O'Brien | Male | Sen | Wexford Youths | 0:57:02 | 0:56:34 |
| 374 | 385 | Lynda | Kinsella | Female | O40 | Slaney Olympic | 0:57:06 | 0:56:53 |
| 375 | 544 | Carmel | Kinsella | female | Sen |   | 0:57:07 | 0:56:53 |
| 376 | 76 | Ciara | Tooher | female | Sen |   | 0:57:12 | 0:56:40 |
| 377 | 25 | Jonathan | Doran | male | Sen |   | 0:57:17 | 0:56:38 |
| 378 | 340 | christopher | dowling | male | O50 |   | 0:57:18 | 0:56:42 |
| 379 | 353 | Trudi | Crosbie | female | Sen |   | 0:57:22 | 0:57:07 |
| 380 | 356 | Sinead | Hanrahan | female | Sen | Slaney Olympic | 0:57:24 | 0:57:02 |
| 381 | 491 | Joan | Doyle | female | O40 |   | 0:57:25 | 0:57:01 |
| 382 | 550 | Annis | Kehoe | female | O50 | Slaney Olympic | 0:57:26 | 0:56:52 |
| 383 | 371 | CJ | Browne | Male | Sen | Wexford Youths | 0:57:27 | 0:56:53 |
| 384 | 51 | Deirdre | Kinsella | female | Sen |   | 0:57:29 | 0:57:19 |
| 385 | 427 | Ronan | Gately | male | O40 | Jedi Knights | 0:57:32 | 0:57:16 |
| 386 | 428 | Patrick | Gately | male | O40 | Jedi Knights | 0:57:32 | 0:57:16 |
| 387 | 21 | Sean | O Morain | male | O40 |   | 0:57:33 | 0:57:04 |
| 388 | 165 | tom | moran | male | O40 | esb | 0:57:34 | 0:57:05 |
| 389 | 22 | Peadar | Moran | male | Sen |   | 0:57:34 | 0:57:05 |
| 390 | 443 | Edel | English | female | Sen |   | 0:57:40 | 0:57:31 |
| 391 | 156 | AINE | CULLEN | female | Sen |   | 0:57:53 | 0:57:45 |
| 392 | 201 | jenny | young | female | Sen |   | 0:57:55 | 0:57:29 |
| 393 | 158 | SAREEN | WALSH | female | Sen |   | 0:57:55 | 0:57:46 |
| 394 | 309 | Tom  | Banville | Male | O40 |   | 0:57:57 | 0:57:22 |
| 395 | 54 | Kenneth | Nolan | male | Sen |   | 0:58:02 | 0:57:23 |
| 396 | 229 | Karen | O'Connor | Female | Sen | Creane&Creane | 0:58:04 | 0:57:57 |
| 397 | 420 | Patricia | McNally | female | Sen |   | 0:58:11 | 0:58:06 |
| 398 | 88 | Ciara  | Heffernan | female | Sen |   | 0:58:11 | 0:57:48 |
| 399 | 166 | Stephen  | Ennis | male | Sen |   | 0:58:18 | 0:57:43 |
| 400 | 298 | Marie | Ormond | female | Sen |   | 0:58:19 | 0:58:12 |
| 401 | 138 | James | O Rourke | male | O50 | St. Laurence O Toole | 0:58:20 | 0:58:07 |
| 402 | 245 | Tom | Herlihy | Male | O40 | Slaney Olympic | 0:58:24 | 0:58:03 |
| 403 | 81 | Orla | Gahan | female | Sen |   | 0:58:26 | 0:58:04 |
| 404 | 109 | Eoin | Kirwan | male | Sen |   | 0:58:26 | 0:57:53 |
| 405 | 280 | Beryl | Power | Female | O40 |   | 0:58:30 | 0:58:09 |
| 406 | 465 | Una | Ni Mhurchu | female | Sen |   | 0:58:34 | 0:58:14 |
| 407 | 273 | Julie | Dunne | female | Sen |   | 0:58:44 | 0:58:21 |
| 408 | 322 | Andy | Staff | Male | Sen | Slaney Olympic | 0:58:49 | 0:58:14 |
| 409 | 484 | Jane | Kavanagh | female | Sen | Kilkenny City Harriers Fit4Life | 0:58:51 | 0:58:31 |
| 410 | 527 | Trudy | Murphy | female | Sen | St. Laurence O Toole | 0:58:55 | 0:58:42 |
| 411 | 468 | Martina | Reilly | female | O40 | Le Cheile | 0:59:09 | 0:58:41 |
| 412 | 530 | jock | ryan | male | Sen |   | 0:59:13 | 0:58:38 |
| 413 | 529 | danielle | doran | female | Sen |   | 0:59:14 | 0:58:39 |
| 414 | 237 | Aisling | Murphy | Female | Sen | Creane&Creane | 0:59:22 | 0:58:39 |
| 415 | 345 | Orla | McCarthy | female | Sen |   | 0:59:27 | 0:59:02 |
| 416 | 57 | carmel | smyth | female | Sen | Slaney Olympic | 0:59:31 | 0:59:06 |
| 417 | 543 | Karen | Walshe | female | Sen |   | 0:59:42 | 0:59:23 |
| 418 | 262 | Siobhan | Doyle | female | O50 | Menapians | 0:59:44 | 0:59:20 |
| 419 | 276 | Laura | Creane | female | Sen |   | 0:59:48 | 0:59:23 |
| 420 | 393 | Helen | Doyle | female | Sen | Kilmore AC | 0:59:50 | 0:59:19 |
| 421 | 282 | Erica | Wilson | female | Sen |   | 0:59:57 | 0:59:50 |
| 422 | 148 | mary | donnellan | female | Sen | nenagh triatlon | 0:59:57 | 0:59:24 |
| 423 | 523 | Denise | Doyle | female | Sen |   | 0:59:59 | 0:59:23 |
| 424 | 308 | Denise  | Roche | female | Sen |   | 1:00:13 | 0:59:43 |
| 425 | 337 | David  | Tormey | male | O40 |   | 1:00:14 | 0:59:44 |
| 426 | 68 | Grace | Byrne | female | O40 |   | 1:00:42 | 1:00:33 |
| 427 | 341 | Chris | Sutton | male | Sen |   | 1:00:42 | 1:00:04 |
| 428 | 112 | Aisling | Brett | female | Sen |   | 1:00:48 | 1:00:12 |
| 429 | 92 | tom | kavanagh | male | O60 | SBR | 1:00:59 | 1:00:46 |
| 430 | 508 | Noel | O Leary | male | O40 |   | 1:01:13 | 1:01:04 |
| 431 | 362 | Aoife | Meagher | female | Sen |   | 1:01:51 | 1:01:18 |
| 432 | 275 | Aileen | Creane | female | Sen |   | 1:02:13 | 1:01:47 |
| 433 | 359 | linda | meagher | female | Sen |   | 1:02:16 | 1:01:43 |
| 434 | 346 | Mona | Lucas | female | Sen |   | 1:02:20 | 1:01:55 |
| 435 | 100 | Anne | Clarke | female | O40 |   | 1:02:28 | 1:02:06 |
| 436 | 195 | Michelle | Hourihan | female | Sen |   | 1:02:51 | 1:02:25 |
| 437 | 501 | Des | Killeen | male | O60 |   | 1:02:52 | 1:02:31 |
| 438 | 93 | Damian  | Hourigan | male | Sen |   | 1:02:52 | 1:02:26 |
| 439 | 263 | Helen  | Sinnott | female | Sen | Menapians | 1:03:25 | 1:03:00 |
| 440 | 342 | Helen  | Barry Duke  | female | Sen |   | 1:03:27 | 1:03:01 |
| 441 | 198 | Orla | Power | female | Sen |   | 1:03:28 | 1:03:22 |
| 442 | 59 | Jennifer | Ward | female | Sen |   | 1:03:39 | 1:03:10 |
| 443 | 573 | Pat | Kelly | male | O50 |   | 1:03:54 | 1:03:21 |
| 444 | 506 | JJ | Donohue | male | O40 |   | 1:03:54 | 1:03:47 |
| 445 | 216 | Chistina | O'Toole | Female | O40 |   | 1:03:55 | 1:03:36 |
| 446 | 361 | susan | DEMPSEY | female | Sen | Slaney Olympic | 1:03:55 | 1:03:39 |
| 447 | 598 | Geraldine | Redmond | female | Sen |   | 1:03:55 | 1:03:40 |
| 448 | 329 | John | Bourke | Male | O50 |   | 1:04:23 | 1:04:04 |
| 449 | 565 | John | Martin | male | O60 | SBR | 1:04:26 | 1:04:04 |
| 450 | 205 | Sinead | Byrne Doyle | female | O40 | Coral Leisure Runners | 1:04:40 | 1:04:24 |
| 451 | 475 | Margaret | Power | female | O40 |   | 1:05:33 | 1:05:14 |
| 452 | 474 | Paul | Power | male | O40 |   | 1:05:33 | 1:05:14 |
| 453 | 107 | anne marie | cullen | female | Sen | Menapians | 1:05:51 | 1:05:44 |
| 454 | 537 | Louise | Moorehouse | female | Sen |   | 1:06:06 | 1:05:51 |
| 455 | 419 | Catherine | Evans | female | Sen |   | 1:06:07 | 1:05:51 |
| 456 | 31 | Mary  | Crosby | female | Sen | Lucan Harriers | 1:06:10 | 1:05:42 |
| 457 | 480 | Martina | Hynes | female | O40 |   | 1:06:15 | 1:05:56 |
| 458 | 590 | John | O'Brien | male | Sen |   | 1:07:09 | 1:06:37 |
| 459 | 108 | Eilish | Walsh | female | O40 |   | 1:07:21 | 1:06:46 |
| 460 | 479 | Margie | Redican | female | O40 |   | 1:07:59 | 1:07:40 |
| 461 | 478 | Valerie | Hynes | female | O50 |   | 1:08:00 | 1:07:40 |
| 462 | 556 | Siobhan | Dempsey | female | Sen |   | 1:08:01 | 1:07:43 |
| 463 | 101 | Gerry | Fogarty | male | O60 |   | 1:08:25 | 1:08:21 |
| 464 | 64 | Helen  | Cleary | female | Sen |   | 1:08:27 | 1:08:12 |
| 465 | 65 | sandra | druhan | female | Sen |   | 1:08:27 | 1:08:12 |
| 466 | 545 | Richie  | Murphy | male | O60 |   | 1:08:28 | 1:08:11 |
| 467 | 79 | Marie | Cunniffe | female | Sen |   | 1:09:07 | 1:08:44 |
| 468 | 28 | Deirdre | McCarthy | female | O40 |   | 1:09:51 | 1:09:35 |
| 469 | 253 | Noeleen | Sinnott | female | Sen |   | 1:10:19 | 1:09:56 |
| 470 | 505 | Mark | Sheeran | male | O40 |   | 1:10:19 | 1:10:12 |
| 471 | 511 | Anne | Power | female | Sen |   | 1:10:22 | 1:10:18 |
| 472 | 87 | Dawn | Short | female | Sen |   | 1:10:29 | 1:10:13 |
| 473 | 264 | Gillian | Lynch | female | Sen | kilcoole ac | 1:10:44 | 1:10:25 |
| 474 | 504 | Paul  | Nolan | male | O40 |   | 1:11:34 | 1:11:34 |
| 475 | 554 | Colm | McAree | male | O60 |   | 1:12:15 | 1:12:15 |
| 476 | 592 | Susan | Dunne | female | Sen |   | 1:12:31 | 1:11:54 |
| 477 | 228 | Deirdre | Arrigan | Female | Sen | Creane&Creane | 1:12:58 | 1:12:51 |
| 478 | 330 | Kieran | Power | Male | O60 |   | 1:13:05 | 1:12:46 |
| 479 | 424 | seamus | connolly | male | O50 | tinryland | 1:14:10 | 1:13:44 |
| 480 | 55 | Jackie | Nolan | female | O40 | Parnell Athletic Club | 1:14:48 | 1:14:26 |
| 481 | 187 | maura | quilter | female | O40 |   | 1:15:42 | 1:15:06 |
| 482 | 457 | Sean | Dooner | Male | O70 | South West | 1:15:46 | 1:15:25 |
| 483 | 82 | Helen | Farrell | female | Sen |   | 1:16:17 | 1:15:45 |
| 484 | 44 | Elaine | Crosbie | female | Sen |   | 1:16:49 | 1:16:15 |
| 485 | 351 | Danielle | Earle | female | Sen |   | 1:16:52 | 1:16:34 |
| 486 | 181 | Lana | Holmqvist | female | O40 |   | 1:17:17 | 1:17:11 |
| 487 | 157 | KATHLEEN | WALSH | female | O70 |   | 1:18:34 | 1:18:25 |
| 488 | 539 | Ciara | O'Grady | female | Sen | wexford tri club | 1:18:37 | 1:18:00 |
| 489 | 538 | Gabrielle | O'Grady | female | O50 | wexford tri club | 1:18:37 | 1:18:00 |
| 490 | 269 | Jackie | Fortune | female | Sen |   | 1:19:04 | 1:18:47 |
| 491 | 270 | Karen | Martin | female | Sen |   | 1:19:05 | 1:18:47 |
| 492 | 123 | Tricia | Kehoe | female | Sen |   | 1:19:08 | 1:18:43 |
| 493 | 323 | Breda | Banville | Female | O50 |   | 1:19:16 | 1:18:51 |
| 494 | 519 | Lisa | Cullen | female | Sen |   | 1:19:23 | 1:18:57 |
| 495 | 232 | Trish | Murphy | Female | Sen | Creane&Creane | 1:19:40 | 1:18:57 |
| 496 | 231 | Christine | Bracken | Female | Sen | Creane&Creane | 1:19:40 | 1:18:57 |
| 497 | 453 | Elizabeth | Redmond | female | O50 |   | 1:22:04 | 1:21:33 |
| 498 | 454 | Anne | Kenny | female | O60 |   | 1:22:04 | 1:21:33 |
| 499 | 389 | Mary | Nolan | female | O50 |   | 1:23:47 | 1:23:22 |
| 500 | 221 | Mary | Morgan | Female | O50 |   | 1:23:49 | 1:23:30 |
| 501 | 328 | Rita | Murphy | Female | O40 |   | 1:23:49 | 1:23:30 |
| 502 | 586 | John | O'Grady | male | O60 |   | 1:24:21 | 1:24:02 |
| 503 | 241 | frances | byrne | Female | O60 |   | 1:29:42 | 1:29:26 |
| 504 | 242 | Peter | Byrne | Male | O60 |   | 1:29:44 | 1:29:26 |
| 505 | 240 | B  | Coughlan | Female | O40 |   | 1:31:25 | 1:30:40 |
| 506 | 223 | Helen | McAteer | Female | O50 |   | 1:31:25 | 1:30:42 |
| 507 | 239 | Patricia | Gilhooly | Female | O50 |   | 1:31:47 | 1:31:31 |
| 508 | 324 | Mai | Kelly | Female | O40 |   | 1:31:48 | 1:31:31 |
| 509 | 32 | shaun | redmond | male | Sen |   | 1:32:25 | 1:32:25 |
| 510 | 498 | Caitriona | Walsh | Female | O40 |   | 1:37:56 | 1:37:16 |
| 511 | 499 | Katherine | Askins | Female | O40 |   | 1:37:57 | 1:37:17 |
| 512 | 500 | Mary  | Millar | Female | O40 |   | 1:37:59 | 1:37:19 |
| 513 | 225 | Dawn | Moloney | Female | Sen | Creane&Creane | 1:38:20 | 1:38:20 |
| 514 | 226 | Denise  | Whelan | female | O40 | Creane&Creane | 1:38:20 | 1:38:20 |
| 515 | 402 | Louise | Lawless | female | O40 |   | 1:43:09 | 1:42:38 |
| 516 | 512 | Margaret | Murphy | female | Sen |   | 1:43:09 | 1:42:37 |
| 517 | 401 | Catherine | Chappell | female | Sen |   | 1:43:12 | 1:42:39 |
| 518 | 572 | Brian | Kirwan | male | Sen | St. Laurence O Toole | DNF | DNF |
| 519 | 66 | Kevin | Mc Clements | male | Sen |   | DNF | DNF |
| 520 | 558 | Anthony | Wallace | male | Sen |   | DNF | DNF |
| 521 | 132 | Anne | O'Rourke | female | Sen |   | DNF | DNF |