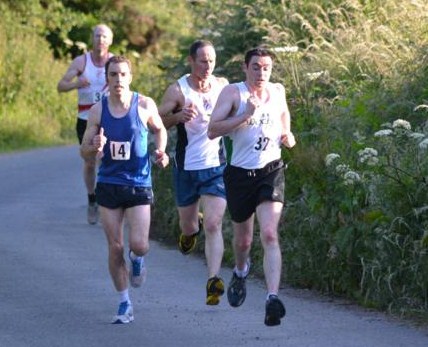 The fourth race of the Slaney Olympic summer league series took place last Friday in sunny, bright but breezy conditions in Taghmon on a new, challenging 10K course. The first four kilometres were relatively flat but from there to 7K there was an almost continuous, gradual ascent. After a short respite the runners were faced with a stiff 300 metre climb at 7.5K  before descending steeply leaving a flatish final 1.5K to the finish line.
Leading the field at 7.5K was a tight group of John Foley, newcomer James Delaney and Billy Reck, all of Slaney Olympic, joined by Brendan Radford of DMP. The final steep climb separated the men from the boys with the youngsters, John and James pulling away from the rest of the group.
John was first across the finish line in 38.09 with James just 8 seconds behind. Billy was third in 38.38 just six seconds ahead of Brendan. Fifth finisher was first lady,Ann Sullivan of DMP in 39.57. Tracy Flanagan of United Striders was second with Lillian Lawless of Macamore AC third. First lady Slaney Olympian was Martina O'Sullivan.
After the race it was back to the local GAA Club for tea, sandwiches and prize giving. A big thank you to race directors Maurice and Lar ably assisted by Alice, Bridget and crew and to all who helped out on the night.
Results
| | | | | |
| --- | --- | --- | --- | --- |
| 1 | John Foley | Male senior | Slaney Olympic | 38.09 |
| 2 | James Delaney | Male senior | Slaney Olympic | 38.17 |
| 3 | Billy Reck | Male O40 | Slaney Olympic | 38.38 |
| 4 | Brendan Radford | Male O35 | DMP | 38.44 |
| 5 | Ann Sullivan | Female O50 | DMP | 39.57 |
| 6 | Bobby Redmond | Male O35 | Slaney Olympic | 40.28 |
| 7 | Colm Stafford | Male O45 | United Striders | 40.44 |
| 8 | Mick Morrissey | Male O50 | Slaney Olympic | 41.03 |
| 9 | Paul Browne | Male O35 | Slaney Olympic | 42.07 |
| 10 | Al Mackey | Male senior |   | 42.26 |
| 11 | John McGrath |   |   | 43.47 |
| 12 | Paul Murphy | Male O40 | Slaney Olympic | 44.03 |
| 13 | Pat O'Callaghan | Male O45 |   | 45.11 |
| 14 | Tracy Flanagan | Female O40 | United Striders | 45.27 |
| 15 | Noel Kehoe | Male O35 |   | 45.56 |
| 16 | Seamus Jordan | Male O45 | Slaney Olympic | 46.21 |
| 17 | Oliver Kelly | Male O35 | Taghmon | 47.01 |
| 18 | Michael O'Gorman | Male O50 | Slaney Olympic | 47.19 |
| 19 | Lillian Lawless | Female O45 | Macamores | 47.27 |
| 20 | Martina O'Sullivan | Female O40 | Slaney Olympic | 48.12 |
| 21 | Sabina Sweeney | Female O40 | Slaney Olympic | 49.24 |
| 22 | Shauna Deane | Female o35 | Slaney Olympic | 51.39 |
| 23 | Emer Kehoe | Female senior | Slaney Olympic | 51.42 |
| 24 | Jane Porter | Female O60 | Slaney Olympic | 53.16 |
| 25 | Noel O'Leary |   | Sliabh Bui Rovers | 54.32 |
| 26 | Alison Storey | Female senior | Slaney Olympic | 55.12 |
| 27 | Kelly Long | Female senior | Slaney Olympic | 56.07 |
| 28 | Breda Cash | Female O45 | Slaney Olympic | 56.09 |
| 29 | Andy Staff | Male senior | Slaney Olympic | 61.47 |
| 30 | Graham Porter | Male O60 | Slaney Olympic | 61.48 |
| 31 | Chris O'Toole | Female O45 |   | 64.39 |
| 32 | Marie Moore | Female O45 |   | 64.39 |