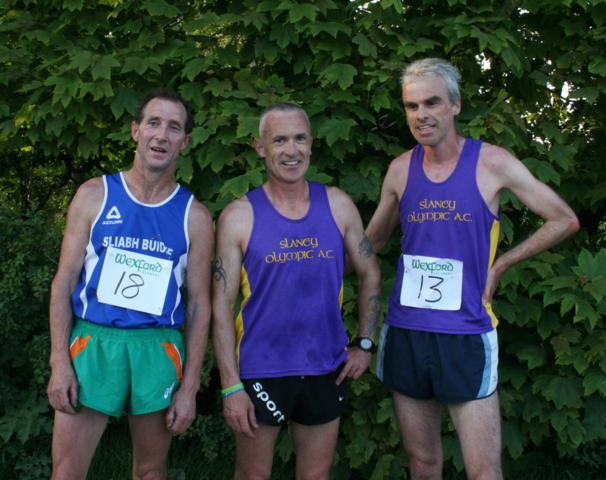 On a perfect summer's evening in Bridgetown the Masters of Slaney Olympic arrived in force to win and win they did in some style. The women were off first at 7pm on the one lap 3K course. Jackie Carthy of Kilmore took the lead from the outset and the destination of theindividual medals was clear from early on. Jackie came in first in 10.33 ahead of Anne Sullivan (DMP) in 11.14 with Catherine Walsh of SBR finishing third in 12.04. Catherine's clubmates Mary Doyle (7th) and Ann Bolger(12th) made up the SBR team. The Slaney Olympic team of Siobhan O'Shea (5th), Martina O'Sullivan (6th) and Mag Dunphy (11th) finished on equal points but Mag's5 second lead on Anne at the finish clinched the title for Slaney. The DMP team of Anne Sullivan, Niamh Coleman and Laura Doyle finished third. Individual category medals went to Martina O'Sullivan (over 40), Nora Boggan of Menapians (over 50) and Jane Porter of Slaney Olympic (over 60).
In the men's race Slaney Olympis dominated the front of the field from the off with The 45 year old master Kevin Murphy looking fit and lean taking pole position. Tommy McElwaine of SBR was close on Kevin's heels towards the end of the first lap of the 6K race followed by the Slaney trio of Dave Barron, Jim Stafford and Martin Monaghan. At the line Kevin had a 6 second advantage over clubmate Dave with Tommy in third spot. Martin was just 7 seconds behind giving Slaney a clear victory in the team event. Tommy along with clubmates Myles Gibbons (8th) and Pat O'Neill (10th) finished second team. The Slaney Olympic B team of Jim Stafford (5th), Jason O'Connor (9th) and John Roban (12th) took bronze.
The category titles went to Jason O'Connor (over 40), Padraig Moriarty, St Killians, (over 45), Jim Stafford (over 50), Eugene Doherty, SBR, (over 55), Graham Porter, Slaney Olympic, (over 60), and Billy Harpur, SBR, (over 65).
After the racing was done it was back to the Slaney Tent where, armed with new flasks, Slaney catering gave us all tea/coffee sandwiches and buns with plenty of imposters also posing as Slaneyites to benefit from the hospitality.
Well done to the stalwarts, John Moore and John Joe Doyle for timing and recording the results and to Paddy Morgan and the team in Kilmore for putting on a good race. Full results below.
 Next get together will be at the SORBBQ (Slaney Olympic Race & Barbeque) in Curracloe on June 9th at 6pm (weather permitting). All welcome. €3 for the race and €3 for the bbq (alcoholic drinks NOT INCLUDED!). If you are planning on coming it would help if you give Jane a call on 0876799490 a couple of days beforehand so we know how much food to order.
Results
| | | | | | |
| --- | --- | --- | --- | --- | --- |
|   | Women |   |   |   |   |
|   | Name | Category | Club | Time | Gold |
| 1 | Jackie Carthy | 40+ | Kilmore | 10.33 |   |
| 2 | Anne Sullivan | 50+ | DMP | 11.14 |   |
| 3 | Catherine Walsh | 40+ | Sliabh Bui Rovers | 12.04 |   |
| 4 | Lillian Lawless | 45+ | Macamore AC | 12.31 | 1st 45+ |
| 5 | Siobhan O'Shea | 35+ | Slaney Olympic | 12.39 |   |
| 6 | Martina O'Sllivan | 40+ | Slaney Olympic | 12.45 | 1st 40+ |
| 7 | Mary Doyle | 35+ | Sliabh Bui Rovers | 12.51 |   |
| 8 | Niamh Coleman | 35+ | DMP | 12.53 |   |
| 9 | Catherine O'Connor | 45+ | Menapians | 12.54 |   |
| 10 | Nora Boggan | 50+ | Menapians | 13.21 | 1st 50+ |
| 11 | Mag Dunphy | 50+ | Slaney Olympic | 13.36 |   |
| 12 | Anne Bolger | 50+ | Sliabh Bui Rovers | 13.41 |   |
| 13 | Claire Gibbons | 35+ | Sliabh Bui Rovers | 13.42 |   |
| 14 | Sabina Sweeney | 40+ | Slaney Olympic | 13.43 |   |
| 15 | Jane Porter | 60+ | Slaney Olympic | 14.02 | 1st 60+ |
| 16 | LauraDoyle | 40+ | DMP | 14.24 |   |
| 17 | Eilish Kehoe | 40+ | Sliabh Bui Rovers | 15.02 |   |
| 18 | Siobhan Doyle | 50+ | Menapians | 16.02 |   |
|   |   |   |   |   |   |
|   | Teams |   |   |   |   |
| 1 | Slaney Olympic | 5,6,11 | 22 |   |   |
| 2 | Sliabh Bui Rovers | 3,7,12 | 22 |   |   |
| 3 | DMP | 2,8,16 | 26 |   |   |
| 4 | Menapians | 9,10,18 | 37 |   |   |
| | | | | | |
| --- | --- | --- | --- | --- | --- |
|   | Men |   |   |   |   |
|   | Name | Category | Club | Time | Gold |
| 1 | Kevin Murphy | 45+ | Slaney Olympic | 19.57 |   |
| 2 | Dave Barron | 45+ | Slaney Olympic | 20.03 |   |
| 3 | Tommy mcElwaine | 40+ | Sliabh Bui Rovers | 20.22 |   |
| 4 | Martin Monaghan | 35+ | Slaney Olympic | 20.29 |   |
| 5 | Jim Stafford | 50+ | Slaney Olympic | 20.37 | 1st 50+ |
| 6 | Ger Moloney | 50+ | St Pauls | 20.45 |   |
| 7 | Padraig Moriarty | 45+ | St Killians | 20.56 | 1st 45+ |
| 8 | Myles Gibbons | 35+ | Sliabh Bui Rovers | 21.07 |   |
| 9 | Jason O'Connor | 40+ | Slaney Olympic | 21.29 | 1st 40+ |
| 10 | Pat O'Neill | 40+ | Sliabh Bui Rovers | 21.53 |   |
| 11 | Eugene Doherty | 55+ | Sliabh Bui Rovers | 22.16 | 1st 55+ |
| 12 | John Roban | 40+ | Slaney Olympic | 22.35 |   |
| 13 | Edward White | 40+ | Kilmore | 23.01 |   |
| 14 | Paul McLoughlin | 40+ | DMP | 23.14 |   |
| 15 | Brendan Kehoe | 45+ | Sliabh Bui Rovers | 23.24 |   |
| 16 | Colm Stafford | 50+ | United Striders | 23.28 |   |
| 17 | Emmet Malone | 35+ | United Striders | 23.35 |   |
| 18 | Kevin Walsh | 55+ | Kilmore | 23.42 |   |
| 19 | Ciaran Quirke | 35+ | Menapians | 23.51 |   |
| 20 | Maurice Whitty | 40+ | Slaney Olympic | 23.53 |   |
| 21 | Pat Sullivan | 55+ | Slaney Olympic | 23.57 |   |
| 22 | Phil Murphy | 35+ | Menapians | 24.01 |   |
| 23 | Brian Maher | 35+ | Slaney Olympic | 24.34 |   |
| 24 | Ger Murphy | 45+ | Slaney Olympic | 24.55 |   |
| 25 | Paul Murphy | 40+ | Slaney Olympic | 25.22 |   |
| 26 | Stephen Whelan | 45+ | Kilmore | 25.49 |   |
| 27 | Dave Percival | 50+ | Menapians | 26.01 |   |
| 28 | Eamonn Roche | 35+ | Menapians | 26.21 |   |
| 29 | Cormac Mc Gearailt | 40+ | Menapians | 26.41 |   |
| 30 | Paul Foley | 50+ | Kilmore | 27.51 |   |
| 31 | Paul Connick | 45+ | St Pauls | 28.11 |   |
| 32 | Philip Donovan | 50+ | Menapians | 28.11 |   |
| 33 | Graham Porter | 60+ | Slaney Olympic | 28.48 | 1st 60+ |
| 34 | Peter Connick | 50+ | St Pauls | 29.04 |   |
| 35 | Dessie O'Brien | 60+ | Kilmore | 29.59 |   |
| 36 | Peter Bolger | 45+ | United Striders | 30.22 |   |
| 37 | Billy Harpur | 65+ | Sliabh Bui Rovers | 31.21 | 1st 65+ |
|   |   |   |   |   |   |
|   | Teams |   |   |   |   |
| 1 | Slaney Olympic A | 1,2,4 | 7 |   |   |
| 2 | Sliabh Bui Rovers A | 3,8,10 | 21 |   |   |
| 3 | Slaney Olympic B | 5,9,12 | 26 |   |   |
| 4 | Sliabh Bui Rovers B | 11,15,37 | 63 |   |   |
| 5 | Menapians A | 19,22,27 | 68 |   |   |
| 6 | Kilmore | 13,26,30 | 69 |   |   |
| 7 | United Striders | 16,17,36 | 69 |   |   |
| 8 | Menapians B | 28,29,32 | 89 |   |   |