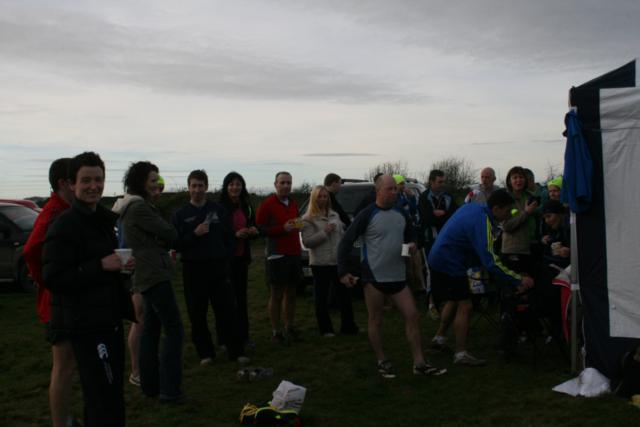 The final county x-country race of the season, the county masters, took place last Sunday, 8th January at Lingstown, Tomhaggard. Conditions were mild and dry and congratulations to the race organisers for an excellent, well managed event.
The Slaney team was impressively out in force with 7 ladies, and 14 men competing. Many outstanding performances brought Gold and Bronze for the ladies, and Gold for the men's team.
The ladies race over 3km was won by Jackie Carty of Kilmore AC (11.28); Catherine Murphy of Slaney was 2nd,(11.37) and 3rd was Ann Sullivan of DMP (12.09), and a good performance from Siobhan O'Shea finishing 4th for Slaney (12.52). Third home for Slaney making up the Gold team was Ciara Kearney in 8th overall. The Bronze team was made up of Sabina Sweeney (9th); Helena Browne (10th) and Gretta Roberts-Tyrell (12th).
A competitive mens race saw the top 6 within 20 seconds of each other over 6k. The race won by a Slaney 1-2 of Jim Stafford (21.38); and 2nd Dave Barron (21.44) and 3rd place Tommy Mcelwaine of SBR (21.49). Third home for Slaney was Farmer in 5th position (21.58) making up the Gold team.
As well as the regular club members, special mention to the new club members of Matty Nylan and John O'Sullivan who went out and ran for their club in their first x-country race and also to Seamus Jordan who ran his first x-country race and all finished in respectable times.
Results
Women
1. Jackie Carty (Kilmore AC) 11-28
2. Catherine Murphy (Slaney Olympic) 11-37
3. Ann Sullivan (DMP) 12-09
4. Siobhan O' Shea (SO) 12-52
5. Catherine Walsh (Sliabh Buidhe Rovers) 13-13
6. Catherine O' Connor (Menapians) 13-54
7. Ann Bolger (SBR) 14-24
8. Ciara Kearney (SO) 15-31
9. Sabina Sweeney (SO) 15-47
10. Siobhan O' Sullivan (SBR) 15-56
10. Helen Browne (SO) 16-19
11. Theresa Igoe (DMP) 16-23
12. Gretta Roberts-Tyrrell (SO) 16-24
13. Jane Porter (SO) 16-39
Teams:
1. Slaney Olympic "A" 14pts
2. Sliabh Buidhe Rovers 22pts
3. SO "B" 33pts
Men
1. Jim Stafford (Slaney Olympic) 21-38
2. David Barron (SO) 21-44
3. Tommy McElwaine (Sliabh Buidhe Rovers) 21-49
4. Myles Gibbons (SBR) 21-55
5. Martin Monaghan (SO) 21-58
6. Ger Maloney (St Pauls) 21-59
7. Jason O' Connor (SO) 22-36
8. Ger Doyle (SBR) 22-59
9. Pat O' Neill (SBR) 23-04
10. David Leonard (SBR) 23-14
11. Eugene Doherty (SBR) 23-21
12. Sean Murphy (United Striders) 23-22
13. Richard Fortune (DMP) 23-30
14. Brendan Radford (DMP) 23-38
15. John Roban (SO) 24-01
16. Billy Reck (SO) 24-07
17. Mick Morrissey (SO) 25-11
18. Paul Brown (SO) 25-13
19. Emmett Malone (United Striders) 25-18
20. Paul Murphy (SO) 25-51
21. Kevin Walsh (Kilmore AC) 26-25
22. Neil Hudson (SO) 26-32
23. Matty Phylan (SO) 26-43
24. John O' Sullivan (SO) 26-46
25. Ger Murphy (SO) 27-07
26. Gavin Kelly (US) 27-09
27. David O' Neill (St Pauls) 29-36
28. Seamus Jordan (SO) 30-00
29. Billy Harpur (SBR) 33-38